Based off Banoffee Pie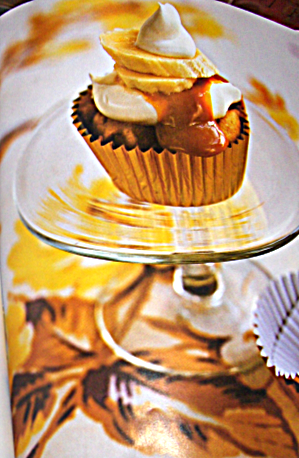 (Bad picture, taken straight from the book. Yay!)

Banoffee Cupcakes
--Ingr.
4 Tbs butter at room temp.
1/3 cup packed brown sugar
1 egg
1 ripe banana mashed
1 cup self-rising flour
4 chewy caramels chopped
--To decorate
2/3 cup heavy cream, whipped
3-4 Tbs dulce de leche
1 banana sliced
Preheat the oven to 350'F then line the muffin pan with ten paper liners.
Beat the butter and sugar together in a bowl until creamy, then beat in the egg, a little at a time. Fold in the mashed banana, then sift flour into the mixture and fold in, followed by the caramels.
Spoon the mixture into the muffin cups to bake for about 16 minutes until risen and a skewer comes out clean. Transfer to a wire rack to cool.
To decorate, swirl the cream over each of the cupcakes, then drizzle with a spoonful of dulce de leche and top with slices of banana.
NOTE: Dulce de leche is a sweet, this caramel sauce from Spain, that is available. If you can't find it, you can make it yourself. Put a sealed can of condensed milk in a saucepan, pour over boiling water as necessary so that the can is always covered. Remove from the pan and let cool completely before opening using a can opener. Stir well to make a smooth sauce before spooning over the cupcakes.